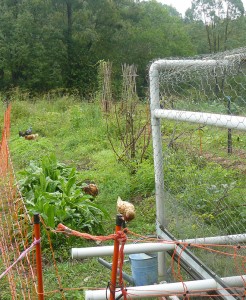 Autumn this year means partnerships (as usual), beautiful black alpaca wool, native bees and chooks in the market garden I had a wonderful conversation with a restaurant owner in an IGA isle and our discussion moved onto alpacas. It is really hard to get good quality coloured wool as all the good breeding is usually concentrated on the white alpacas because they can command a better price.
A couple of days later, Sarah arrived home with a car load of luxurious black and caramel wool. Helen had dropped it off at our café and I am now enjoying evenings near the fire spinning some beautiful black wool. Thank you Helen!
The plumber visited the farm last week because we had problems with the irrigation for the market garden. After John and Bryn fixed the blockages, conversation turned to native bees. It turns out Bryn's Dad has a hive in his water metre, so this weekend will see Richie with the help of Ian, transferring the bees into a box and then into the market garden.
Finally, the chook tractor is now at home in the vegie patch and the plastic-electric fencing finally arrived. Initially the chooks snuck out through the holes, but the electricity (solar-powered) has now kicked in and the hens are on the right side of the vegies!
From our place to yours,
The Johnson family.