Following right on from last month, rain and irrigation are still high on the list of thought time. All of the animals are getting a little twitchy over the lack of grass growth. One of the large steers escaped next door into the environmental Park (very briefly) fully agreeing with the philosophy that the grass is always greener on the other side of the fence! Fortunately fence fixing is part of my resume, so the problem is fixed for now. I do not know how those farmers further out west manage through the droughts and my thoughts are with them. With the olives pu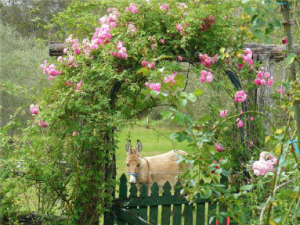 tting their energies into growing to full size for picking in March, watering and weed maintenance are priority for them. Fortunately the alpacas and the Dexter cows do a great job in the weed area while fertilising at the same time. Work in the market garden continues to take my time, with Richie helping out. Richie and his partner have just bought land in the area with the dream of becoming farmers. How wonderful to see the next generation of growers quietly emerging. With an eventful and busy year coming to a close, I am looking forward to some serious book reading, Woodford festival going, spending time with my family and catching up with lots of friends. May the festive season be all that you need,
From our place to yours,
The Johnson family.